Many scale-up CEO's hesitate at the idea of building a team that is not in the room next door. While some reservations are around ensuring quality of code, one of the largest concerns is often more about maintaining organisational culture.

Organisational culture shapes the way your business is run and helps your employees feel connected to the company's mission. However, maintaining the same culture for a remote or nearshore dedicated team that exists for your in-house one can be a delicate task — especially when regional differences come into play.

Since casual banter by the watercooler isn't an option, you have to use other ways to foster communication and culture between your onshore team and dedicated nearshore engineering centre.

In this article, we walk you through our approach on how we find talent, build the right culture and help you scale your own high-performing nearshore team.

1. We start by asking the right questions

We start our client journey by asking the right questions to not only understand your talent needs, but also the company's purpose. Companies with a strong purpose attract more customers, but also are more likely to attract and retain talented employees.

We then explore other aspects of your business as well as your technical challenges so we can understand more holistically what success in nearshore development looks like for you.

Our team of specialists will then co-create a solution with you and your stakeholders to ensure we build a dedicated team that is connected to you and your vision.

2. Talent acquisition

Liquid Technology's talent teams have decades of experience in the Ukrainian market and access to some of the best talent, especially in high-load systems, data-driven development and emerging technology.

Technical skills are important, however they are only one factor when trying to build a team. Our clients have said they want to understand the individual's level of domain knowledge, problem solving skills and ability to work as part of a team.

Therefore our approach to talent acquisition is our organisational psychologist designed 4-factor framework that ensures we build the team with the right mix of technical, business and critical thinking skills.

See our current opportunities...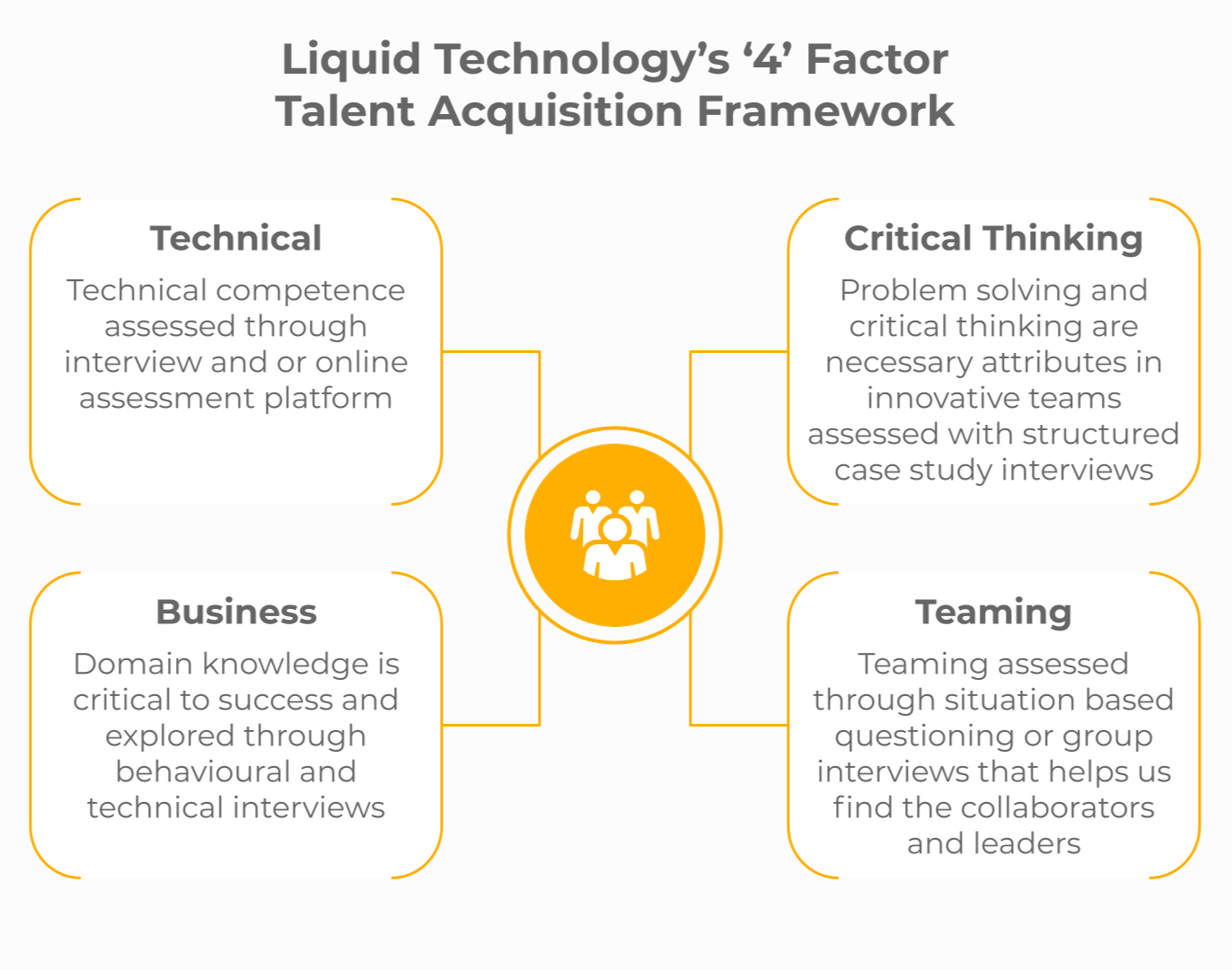 3. Onboarding your team

You only get one chance to make a first impression.

The talent journey begins with their very first interaction with Liquid Technology, then interviews with you and right through until well after they have worked with us. One of the key milestones on that journey is their first day in your team.

The first day can be daunting for some, however our 'Welcome to Liquid' process includes comprehensive introductions, welcome pack and the assignment of a 'buddy'. The aim of the 'buddy' is to help the new team member integrate whilst providing an informal point of contact where they can safely ask those 'stupid' questions that often cause anxiety.

4. First 100 days

When building a new nearshore team, it is not enough just to migrate the culture from the onshore team with a couple of visits. There are often cultural differences that need to be taken into account.

Our People & Culture team work with you to design and build a structured set of activities based on our Team Performance Framework.

The framework was developed based on leading academic insight and practical experience to guide new teams through their first 100 days. It outlines key activities that help teams align on the why, build trust through team building, co-create goals and commitments and then provide a safe environment to keep each other accountable through constructive feedback.



5. Sustainment

You can't just 'set and forget' once the team reaches a high-performing state. Our People & Culture team continue their support throughout your engagement with ongoing leadership and professional development training, career management and soft-skills programs for your nearshore team.

These programs are delivered by professional trainers from the US, Australia and Ukraine throughout the year combined with our twice annual 'Liquid' days for intensive learning and team building.

Summary

Building a high-performance team culture is very important to us and our clients. Our approach is built on decades of leadership experience by our senior team which is supported by decades of western business experience with top tier companies, academic research, our organisational psychologist and the experience of living and working in Ukraine

About the author:
Hugh Simpson is the CEO of Liquid Technology and is a nearshore / offshore IT expert with 20 years experience in consulting at EY (technology, data, analytics and AI), nearshore software development at Ciklum and founder of start-ups like interactDIGITAL. Hugh holds an MBA from the University of Sydney and is a graduate of the Australian Defence Force Academy and 10 year Navy veteran.